2016-17 Season Speakers :
6th July 2017 Greg Smye-Rumsby – Greenwich Planetarium presenter
Greg likes to keep the subject of his talk a secret until the very last moment— so we've no idea what it will be about!



1st June 2017 Short Talks by Members
Dr Anthony Baxter - "The Beginnings (or 1st Generation) of X-ray Astronomy"
Dave Williams – Why use RAW files?
Bob Okines – Update DS
Andy Lawes talks with Professor Laurence Doyle Principle Investigator at SETI in a live video link
Doug Edworthy - "Months of late nights to collect, gone in a moment! What happens when an IT professional doesn't follow his own advice."
William Joyce – Short talk on the collision between Andromeda and our galaxy
4th May 2017 Chris Lintott
His talk entitled : 'I want to believe : an astronomer's hunt for aliens' and he will be staying on for a chat and a pint.
Chris is Professor of Astrophysics in the Department of Physics at Oxford University, Professor Lintott is involved in a number of popular science projects aimed at bringing astronomy to a wider audience. He is the primary presenter of the BBC series The Sky at Night, having previously been co-presenter with Sir Patrick Moore until Moore's death in 2012. Lintott co-authored Bang! –The Complete History of the Universe with Patrick Moore and Queen guitarist and astrophysicist Brian May.

Chris Lintott is the co-founder, along with Kevin Schawinski, of Galaxy Zoo, an online crowdsourcing project where members of the public can volunteer their time to assist in classifying over a million galaxies. Lintott is the principal investigator for the citizen science web portal Zooniverse. Quoting from the Zooniverse Team page: "Astronomer and founder of both Galaxy Zoo and the Zooniverse that grew from it, Chris is interested in how galaxies form and evolve, how citizen science can change the world". Lintott is also the chair of the Citizen Science Alliance, the organisation that produces, maintains and develops The Zooniverse.



6th Apr 2017 Paul Money FRAS
Triumphs of Voyager pt1: Journey to Jupiter/Splendours of Saturn

The charismatic Paul, one of our first ever society speakers returns to present the first of a two part talk about the fascinating Voyager missions. Fourty years ago this August & September the Voyagers were launched on their amazing missions to explore the outer giant planets. Triumphs of Voyager pt1 looks at their Journey and encounters with Jupiter and Saturn which revealed amazing worlds, moons and rings that changed how we understood our solar system.
2nd Mar 2017 Jane Green : THE ROAD LESS TRAVELLED BY
In this presentation, Jane shares her personal, and somewhat unconventional, journey into astronomy.
Jane's enthusiasm for planet Earth and the science of astronomy is infectious. She adores her subject and knows that you will too.

Head-hunted for her international award-winning business skills, Jane's career began at the Foreign & Commonwealth Office, but she took the 'road less travelled by' and went to sea instead, becoming a senior officer for sixteen years with a leading British cruise line. Whilst sailing the world her love for astronomy began. Armed with a Degree course in Astronomy and Planetary Sciences, nightly cocktail parties soon became astronomical tours and subsequent successful theatre lectures.

Her passion is making astronomy your passion. Her love for life will change your life.

An elected Fellow of the Royal Astronomical Society (FRAS), she is now a host and presenter, motivational speaker, bestselling author, broadcaster and registered school speaker. Immersing herself in this beautiful subject, she shares her knowledge and weaves her special magic before capacity audiences of all ages. Whether select clients in corporate team-building events or theatre audiences numbering 2000+, all have been enraptured.
Jane's website is www.janegreenastronomy.co.uk




2nd Feb 2017 Mary McIntyre (nee Spicer) : Advanced AstroPhotography
Use of telescopes, cameras, connectors, software and some hints and tips, resources, what works with the various astro subjects; this was a great talk that showed you (and allowed you to ask) how it should be done for getting the best results. It included a live demo of the various software applications that allows Mary to create such wonderful results. You can follow Mary at her blog spot account. Notes from Mary's AstroPhotography meetings can be found here (available to members who are logged in).
5th Jan 2017 Dr. David Mannion FRAS: COSMOLOGY REVEALED
David Mannion has three degrees in Astronomy and has taught in Schools and Colleges for 28 years in the UK, Austria and Turkey. He has also been a tutor for the Open University in both Physics and Astronomy.

Dr. Mannion became a Fellow of the Royal Astronomical Society in 1984 and was a member of its Education Committee 2005 - 2010.

He has run numerous Astronomy Clubs and was a founder member and a Vice President of the Association for Astronomy Education.

His other burning interest is weightlifting having once been a British Student Weightlifting and Powerlifting Champion in 1984. He is currently a National Referee for British Weightlifting and became a Masters Champion in the 94 kg class in 2007, 2010 and again in 2012.

He wishes to keep lifting weights and watching the stars for as long as possible. He has two videos on Galileo and Newton on YouTube (See The Heavens Above episode 1 and 2). His web site is http://WorldofAstronomy.org.uk/.
1st Dec 2016 Brad Gross
Science Entertainer
A Presentation that enthused and enthralled the society with his entertaining talk and interaction. Brad has many strings to his bow (including coffee vendor entrepreneur!) "I try to enthuse astronomy in children with fun, comedy and gags which is not the norm, but it works". Dumbing down astronomy and enthusing a new generation of young astronomers, physicists, Mathematics, etc. "Accessibility and enthusiasm breeds understanding. The key is enthusiasm and you ESAS guys have plenty of that!" A thoroughly entertaining and engaging presentation. Oh and he is also available for Science shows and parties etc via his Blast Science company (and also, this year (2016) won the Best Kids Birthday Party in the UK !).
3rd Nov 2016 David Whitehouse; 'Journey to the centre of the Earth'
Multi-award winning journalist author broadcaster. Ph.D Jodrell Bank. Asteroid 4036 Whitehouse. Biographer of the Moon and Sun. Ex BBC Science Correspondent. Website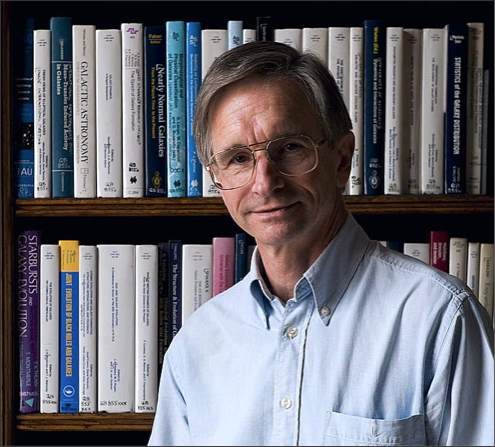 6th October 2016 Ian Ridpath - Comets; Ghostly wanderers in space
Comets appear in our skies from time to time like ghostly apparitions. In the past they were regarded as omens of disease, death and destruction. Now we know that countless billions of them exist in the form of dirty snowballs at the edge of our Solar System, remnants from the formation of the Earth and other planets. We see them only on the rare occasions when they approach the Sun and heat up, releasing gas and dust to form a glowing head and tail. Recent space probe missions to comets have given us astounding close-up pictures and first-hand information on their composition and structure. This talk will explain scientists' efforts to understand where comets come from, what they are made of, how they were formed and their role in the origin and development of life on Earth.
Biography
1st Sept 2016 Pete Lawrence from Sky at Night
Our Speaker for September was an old friend of ours; Pete Lawrence has been a presenter on the long running BBC Sky at Night television programme since 2005. He has been an astronomical consultant for the popular BBC Stargazing Live television series since it began, and appeared on the programme in 2014 as an aurora expert. Pete also writes many of the guides used by the BBC to support the programme. He compiles and writes the monthly Star Guide for the Sky at Night Magazine as well as carrying out equipment reviews on their behalf and acting as their resident imaging expert. He has held this position since the magazine stated in 2005.

Pete is highly regarded in the world of astrophotography specialising in capturing time specific events. Many of his images have been published in books, magazines and online across the world. As well as having several decades experience as an astronomical observer, he also holds an honours degree in Physics with Astrophysics from the University of Leicester. As part of his astronomical duties, Pete also acts as an expert guide on specialist trips including those in search of the elusive Northern Lights and solar eclipses. He was awarded the Davies Medal by the Royal Photographic Society in 2014, for his significant contribution in the field of imaging science.
Biography
---
2017-18 Season Speakers :
7th Sept. 2017 Melanie Davies : The Cassini Mission

Melanie brought us up to date with the magnificently successful Cassini spacecraft mission to Saturn! With the end of the mission on the 15th Sept Melanie brought us up-to-date Cassini news and images/video including items only 3 days old.
If you wanted to see that Wave at Saturn image that Melanie spoke about in that full high resolution version you can find it at nasa.gov. To find out more about this mission go to https://saturn.jpl.nasa.gov.


We also had William Joyce present a fascinating talking on 'The Mystery of the Ice Volcanoes' in our second half. A comparison of the planet Earth volcanic systems against the rest of the solar system moons and planets with some surprising and unexplained findings.
5th October 2017 Caroline Beevis - "Space Dogs, The True Story of Russia's Canine Cosmonauts"
Space Dogs, The True Story of Russia's Canine Cosmonauts' tells the true story of all 48 dogs and the scientists who were given the task of sending an animal into Space in preparation for Yuri Gagarin's historic flight. This presentation features rare images and footage leading up to and beyond Laika's tragic flight of November 3rd 1957, and it includes artwork and music from around the globe that was inspired by Laika, making it an informative, sensitive presentation suitable for all ages.
A life-long stargazer, Caroline has been involved with the South Downs Planetarium in Chichester for fifteen years, is a member of Mid Kent Astronomical Society, and has given regular talks, workshops and astronomy evenings in schools around Kent and Sussex. She has had astro-images published, as well as being guest astronomer in The Namib Desert.
2nd Nov. 2017 Richard S Pearson

The co-author of Yearbook of Astronomy 2018



7th Dec. 2017 Brad Gross : tbc

---
2014-15 Season Speakers have been:
2nd January 2014 - Rosemary Selmes
Our first speaker for 2014 is Rose-mary Selmes, a founder member and a past astronomer at Herst-monceux, Rosemary has spent probably thousands of hours on her back in the Domes at Herst-monceux manually correcting the guiding of the telescopes. One of these telescopes was the Isaac Newton Telescope now located at La Palma, where she and a hand-ful of other members visited the INT and were given access to it.
Rosemary's talk is entitled 'INT past and present'
6th February 2014 - Stuart Constable
Thursday 6th February 8pm ESAS Meeting Stuart Constable from Herstmonceux Radio Astronomy Facility will give us a candid view of this fascinating side of Astronomy and show you how to start.
April 3rd 2014 - Damian Peach – Astrophotography
For more information go to Damians'
website
.
May 1st 2014 - Peter Gill from Eastbourne - The Moon
June 5th 2014 - Paul Money (Astronomer, Author, presenter)
July 3rd 2014 - Members Evening Andy Lawes, Richie Jarvis, Peter Bolwell & Zoltan Trenovszki
---
2nd October 2014 - Stephen Tonkin - Binocular Astronomy
Stephen is an author for popular Astronomy Magazines and has written several books one entitled Binocular Astronomy which is the title of Steve's talk. Stephen's talk is a hands on experience and he will be bringing lots of equipment.
Ref: http://binocularsky.com/
6th November 2014 - Bob Mizon from Campaign for Dark Skys (CfDS)
6th December - Xmas dinner @ The Star Inn Pevensey
4th December 2014 - Short Talks by Members
8th January 2015 - Alistair Fairley - Moon Missions a ITV reporters view
Alastair Fairley is a writer, heritage expert and, since 2004, Director of the Fairley Archive of Space Exploration (FASE) .
Currently a senior member of the South East Regional Committee of the Heritage Lottery Fund, his responsibilities include overseeing the awards of over £22m annual grant programme, drawing on his experience of founding, managing and securing funds for a raft of large and small organisations in the arts, heritage and community development sectors.
In 2004 he established the Fairley Archive of Space Exploration, after a bequest of rare photography and space artefacts from his late father, Peter Fairley, the former Science Editor of Independent Television News. The archive contains several thousand rare NASA and Soviet photographs, signed photography and other items from the golden era of space exploration, stretching from the earliest forays into space through to the development of the space shuttle and beyond.
5th February 2015 - Francisco Diego - Senior Research Fellow at UCL
Cosmic Fire On Earch : The amazing energy of star death
Going back in time to explore those initial conditions, when the primordial energy was confined in a handful of fundamental particles, the building blocks of the Universe to be brought together at different stages by the four known basic forces.

Travelling deep inside stars to witness some of those forces at work, assembling the nuclei of light atoms along millions of years; a process highly intensified during the brief and cataclysmic death of massive stars.

A talk that will promote debate about the discoveries of science and its applications for good and for bad.

ref: http://www.ucl.ac.uk/themindoftheuniverse/lectures/cosmic-fire
---
The second half we will have a brief Sky Diary, and a short talk by ESAS Member Mark Jarvis a keen Astrophotographer, he will be showing us how he manages to get his wonderful pictures using his Canon DSLR & Astrotrac.
Thursday 5th March -
Jane A. Green - BASKETBALLS AND BEYOND - Wonders of the Cosmos.
Jane is a Professional Speaker, Author and Broadcaster with appearances on BBC Radio Four, BBC Two and BBC Radio Sussex. She has co-presented with Sir Patrick Moore and is author of the best-selling Haynes Astronomy Manual – listed No 6 on Amazon's 'List of Collectible Astronomy Books for 2011′ – and Celestial Extra Texture, a masterpiece combining earth-bound nature and celestial wonder.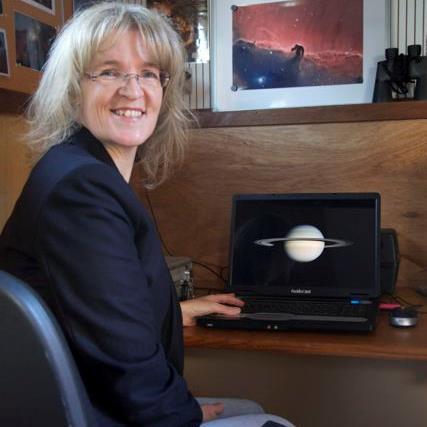 She appears regularly on 105 Uckfield FM as their resident astronomer. Janes' website is www.janegreenastronomy.co.uk
Jane's style is enthusiastic, passionate and above all, accessible. Her innate ability to explain the most enormous concept in a straightforward and digestible way has made her beloved of listeners and readers alike.
Thursday 2nd April 2015 - Darren Baskill Astronomy Outreach Director Sussex University.
Darren is the outreach officer for the University of Sussex's department of Physics & Astronomy, where he encourages school and college students to consider doing a degree in physics. Before that, he taught astronomy at the Royal Observatory Greenwich, predominantly in the planetarium, and before that he did his PhD in X-ray astronomy, after which he spent 4 years calibrating the XMM-Newton Space Telescope, ensuring the the data sent back to Earth was of the highest quality.
With his talk entitled Extreme Astronomy: Observing the Hawaiian Skies
Abstract: "The best places to observe the night sky also have some of the most extreme conditions on the planet. British astronomers have access to telescopes at an altitude of 4,200m on the summit of Mauna Kea, on the Big Island of Hawai'i. This talk is a personal perspective on making astronomical observations in harsh conditions using the UK infra-red telescope and JCMT telescopes atop Mauna Kea."
7th May 2015 - David Mannion - ET are you out there?

We have always wondered whether there is life on other planets and if there is life can we expect to communicate one day with intelligent life? Have aliens been to our Earth? What form of communication might work with extra-terrestrials?
Talk references:

David Mannion has three degrees in Astronomy and has taught in Schools and Colleges for 28 years in the UK, Austria and Turkey. He has also been a tutor for the Open University in both Physics and Astronomy.

Dr. Mannion became a Fellow of the Royal Astronomical Society in 1984 and was a member of its Education Committee 2005 - 2010.

He has run numerous Astronomy Clubs and was a founder member and a Vice President of the Association for Astronomy Education.

His other burning interest is weightlifting having once been a British Student Weightlifting and Powerlifting Champion in 1984. He is currently a National Referee for British Weightlifting and became a Masters Champion in the 94 kg class in 2007, 2010 and again in 2012.

He wishes to keep lifting weights and watching the stars for as long as possible. He has two videos on Galileo and Newton on YouTube (See The Heavens Above episode 1 and 2). His web site is http://WorldofAstronomy.org.uk/.
4th June 2015 - Professor Chris Lintott (Co-presenter on BBC Sky at Night)
The society is proud to have had along the long standing presenter of the BBC's Sky at Night, Professor Chris Lintott to our meeting. Chris, with Sir Patrick Moore, has been a key player in getting as many people as possible involved in Astronomy, with his involvement in Zooniverse and the public lectures he undertakes.
Chris invited people to explore the Universe from the comfort of their sofa with the help of their own computer. He shared his expert knowledge on planet exploration and showed how everyone can become a citizen scientist alone with the [currently] 800,000 volunteers armed with nothing more than a web browser who have helped astronomers discover planets, explore distant galaxies and map the Milky Way.
---
In the second half of the meeting;
Not only did Chris give us a fascinating lecture but this month he officially became our Patron of ESAS in a small ceremony after his talk.


Paul Foster talked to a member of Northeast Florida Astromical Society over a live link, to officially mark the twinning of ESAS & NEFAS.


Andy also give us the sky diary.
2nd July 2015 - Paul Money (FRAS) - 'Our Universe in Pictures 3'
An astronomer based in Lincolnshire, England, Paul is well known for his animated talks, he is the reviews editor of the BBC Sky at Night magazine. Paul broadcasts regularly on BBC Radio Lincolnshire and was awarded the 'Eric Zucker' award for 2002/2003 for contributions to Astronomy by the Federation of Astronomical Societies.
ESAS members can view the Q&A video on our society videos of Pauls' previous talk on "Images of The Universe" by logging on to the web site members section.
2nd August 2015
Open Day with Planetarium talks, Telescopes & Star troopers
2015-16 Season Speakers :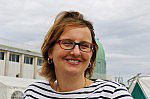 7th July 2016 Kathy Romer from Sussex University
Improving our Understanding of Cosmic Expansion with the Dark Energy Survey This talk will introduce the following concepts: expansion of the Universe, dark matter, and dark energy. This will take about 15 minutes, with questions to follow. Then the audience will be asked to select which 2 or 3 of the following topics they want to learn more about. Each description will take about 10 minutes, followed by questions.
a) Practical aspects of the Dark Energy Survey;
b) How clusters of galaxies allow us to study Dark Matter and Dark Energy;
c) How galaxy patterns allow us to study Dark Matter and Dark Energy;
d) How exploding stars allow us to study Dark Matter and Dark Energy;
e) How gravitational bending of light allow us to study Dark Matter and Dark Energy.
Biography
2nd June 2016 Mary Spicer - A Beginner's Guide to Astrophotography
Our Speaker is from Oxfordshire she is giving her first installment of Astrophotography for beginners could you please add to our web page.
Basics of which camera settings you need to use and how to focus correctly
How to shoot widefield images of constellations and conjunctions
How to shoot star trails
How to shoot with a zoom lens
Attaching a camera to a telescope
How to shoot lunar and solar images through a telescope
How to shoot deep sky images through a telescope
Mary uses photos throughout the whole talk to show what kind of results can be expected with different equipment.
Born and raised in Lancashire, Mary had her head in astronomy books before she could even read and got her first telescope when she was just 11 years old. But a move to London and light polluted skies kind of killed the passion a bit, and astronomy took a back seat for a few years.

Then that passion was reignited when she had the chance to study for the Astronomy GCSE exam in 2011, and this is when she first started astrophotography as part of her GCSE coursework. She went on to study the Certificate in Astronomy and Planetary Science at the Open University.

A move to dark skies in rural Oxfordshire 3 years ago to live with her fellow astronomy nut fiance, Mark, finally lead to them building their own observatory and they do astronomy outreach events from their back garden.

Mary is a keen astrophotographer and has had her images appear in online magazine, in local newspapers and on various tv shows. She is also a writer, and has recently written articles for Sky at Night magazine, as well as giving talks and astrophotography workshops in the area. 2 years ago Mary also took over the running of the UK Women in Astronomy Network.
5th May Nick Howes entitled 'A tail of two comets- or Sense & Serendipity'
Nick Howes is a freelance science writer and amateur astronomer, whose work has included science writer for the European Space Agencies Science Portal.

A Fellow of the Royal Astronomical Society, he has written for Astronomy U.S, Sky and Telescope, Popular Astronomy and many other publications and websites, including occasional guest articles for NASA's website. His images of comets and asteroids have graced the NASA home pages on multiple occasions.

His comet and general imaging work has won awards and been featured by the like of National Geographic, The Times of London, Universe Today, Space.com, Financial Times and Discovery Channel Science as well as multiple books and peer reviewed journals.

A STEM ambassador in the UK, he has appeared on both BBC television and radio and he regularly features as the official astronomer for the BBC in the South West of England. He is also the tour leader for astronomy holidays in Africa and a consultant to the GEO Observatory in Andalucia, Spain.
7th April 2016 Steve Tonkin Binocular Astronomy
Don't forget to check his site out for great binoculars resources: http://www.binocularsky.com
A return of Steve Tonkin with his talk Binocular Astronomy. Last time Steve was with us we were in the Pebsham Community Big Hall where the acoustics were so bad that many members did not hear what was being said, so we have another chance to listen to his talk and discover what can be seen with a simple pair of Binoculars, what to look for when buying binoculars, how to use them, what to use with them and so much more. PLUS a chance to try out a few in the talk so you can "see for your self".
Thursday 3rd March 2016 : Melanie Davies & Mission to Mars: Fiction vs Reality
Mars has been the focus of over 50 missions during the last 55 years – some successful, some not so. Within a generation, we'll see the first real Martians colonising the Red Planet. This informal talk discusses the early mission attempts and failures; data and images from the first flybys; and the incredible scientific discoveries collected over the last decade from ambitious orbiters, landers and rovers. But central to this talk will be the very real plans to send humans to Mars. How will they scene from the martiansurvive? What will it be like? Will they be coming back? And will life there be anything like the scenes depicted in Ridley Scott's new film, The Martian?
4th February 2016 Bob Mizon entitled Seven Moons – seven weird and wonderful moons of the Solar System.
Dagenham-born Mizon is the national coordinator for the British Astronomical Association's Campaign for Dark Skies, which fights against light pollution. He has also written 'Light Pollution: Responses and Remedies,' a book aimed at architects, builders and other professionals to highlight the problems.

Thanks to 17 years of campaigning, Mizon's name was on the Queen's Birthday Honours List in summer 2010 for his voluntary service to astronomy and the environment. Bob has a great wealth of Astronomical knowledge and a great Astronomy enthusiast.

Asking Bob what he would like to be remembered for. "What, when I'm dead, you mean? On my gravestone or memorial I would like to have 'Gone to the stars'," he says. Fitting last words!
7th January 2016 Andy Burns entitled 'Sir John Herschel, 1st Baronet of Slough, the forgotten man of science.'
This is a very big work on the life and works of one the most important influences in 19th century science, Babbage, Faraday, Darwin, Fox Talbot, and the Astronomers, Mathematicians, Botanists, Chemistry, Linguists, Natural Philosopher, Geology, Artist, Musician and so much more. He was one of the great scientists and oft decorated and feted around the world... and so few know about this humble man. He even translated Homers Illiad into the modern English Hexametre (and regarded this as his finest work). He is buried next Isaac Newton, and Darwin buried alongside him in Westminster Abbey.
---
Andy Burns Astronomy CV: Setting up the Griffon Observatory in Spain with the late Dr John Griffiths In Tahiti for the 2012 Transit of Venus… someone had to do it. After being bought the book 'Astronomy' by Patrick Moore in 1961, when he was around 8, astronomy was something that always fascinating. When he was 13, a neighbour brought home a small and basic (by modern standards) refractor and showed the rings of Saturn, his first look through a telescope. What a turn on to astronomy this was. Education, work and family commitments put paid to any more than armchair astronomy until he bought his first telescope 6" TAL2 in 1992. Things then galloped along. Mirror grinding (he is glad telescopes are now cheap enough to buy!), Eclipse chasing – 6 for 6 seen so far that lead to a regular slot on local BBC radio, and 14 years of weekly broadcasts followed.
Both recent transits of Venus covered, the last from Venus point in Tahiti 2012. Andy joined the fledgling Wiltshire AS in 1992, became Vice Chair and is now the society's Chair (since 2006). Edit 24pp newsletter each month (now in the 20th year).
Distance learning university courses (a Central Lancashire and University of Glamorgan) to strengthen his background knowledge lead to annual imaging trips for University of Glamorgan students to Portugal. This led to an opportunity to transfer to Spain and set up, equip and Co-direct of the Griffon Educational Observatory in Andalucía.
In 2005 Andy sold his business and retired to spend more time doing astronomy, and had his arm pulled off to join the Herschel Museum in Bath, where he was a financer, committee member and education astronomer. The privilege of working in such a historical environment rubbed off, and access to books and papers has helped the background knowledge on this amazing family. Andy now give talks on the Herschels world wide – USA 2008 (to the Astronomical League of America congress) and the Johannesburg and Cape Town observatories 2009, and an invite to the astronomy league of America in 2017. And many other topics, particularly related to managing expectations for budding astronomers of all levels.
Andy was privileged to be given the Sky at Night Achievement in Amateur Astronomy Award in 2010 for 'outstanding contributions to advancement and promotion of astronomy'. He worked with the STFC in promoting astronomy in schools, and established background enrichment programmes within schools prior to them taking on GCSE astronomy, and outreach to primary schools and many other groups.
AND; from the ESAS big thanks for him stepping in at the last minute .
5th November 2015 - Greg Smye-Rumsby - Pluto; a planetary system revealed.

Pluto; a planetary system revealed.
1st October 2015 - Melanie Davies FRAS, Space Science Communicator
Talk entitled Titan: A candidate for Evolution

Titan is the largest moon in orbit around Saturn and the second largest moon in the Solar System. It is unique amongst moons, having a substantial atmosphere and Earth-like topographic features. This talk aims to uncover some of its mysteries and to discuss the possibility of life on this curious world.
The local artist/animator, Stephanie Grainger, along with Ray Burnside presents their Picturing Galileo animation of Jupiter and Galilean Moons, overlaying discovery drawings of Galileo.
3rd September 2015 - William Joyce
Our first speaker for 2015/16 is William Joyce, Chartered Physicist & FRAS, a Local Astronomer & Astro Geologist tonight his talk is titled 'Active Galaxies'
With an astrophysics degree, William has worked in space research at Leicester university with Earth remote sensing satellite instruments and in industry in laboratories, space software engineering and later in aerospace systems engineering. William changed career in the mid 2000's and obtained a degree in Earth and Planetary science and followed this with university teaching and astronomy work (and teaching at Herstmonceux observatory). Currently he is studying the Moon for a PhD and gives public talks on astronomy and planetary science.
Also; Sky diary and Society Information.
A 'Short talk by Andy and Zoltan from 365Astronomy: Planetary imaging with ZWO cameras. There will be an opportunity to buy ZWO cameras cameras at a discounted price. Limited time discount for members only.'
---
details to be added
3rd January 2013 Peter Gill talk entitled 'Solar Activity' also Andy Lawes will be giving a tribute talk about our Honary Patron Sir Patrick Moore.
7th February 2013 Greg Smye-Rumsby The title of my talk will be 12756. As usual my talks are secrets so you will NOT know what the talks is about until I give it - just a little quirk of mine.
7th March 2013 Bob Mizon - Ten targets for light polluted Astronomers
4th April 2013 William Joyce (Herstmonceaux Science Centre) Geologist and Astronomer. His talk is entitled Extrasolar Astrobiology.
2nd May 2013 David Mannion (Dr)
6th June 2013 - Dr Chris North
TV Astronomer, broadcaster and author. Chris has been interested in all things space-related since he was young, and was writing school projects on rockets and space missions from junior school onwards. Skip forward a decade, and he was an undergraduate studying Natural Sciences at the University of Cambridge, still with a keen appetite for physics and astronomy. Despite almost being converted into a geologist, I decided to stick to my roots and stayed with astrophysics. My involvement continued after I'd completed my PhD and moved to Cardiff University, where I work on two astronomical satellites: the European Space Agency's Herschel and Planck missions. I do a fair amount of public outreach for those missions - which are producing wonderful and exciting results - both in public and schools, and to both students and teachers."
July 4th, 2013 Members meeting where we have 4 short talks by members;
Our Line up;
St Richards students talking on "Astronomy for Visually Impaired"
Richie Jarvis - Talk entitled 'The Robots of Mars'
Peter Bolwell - Talk entitled 'The Men who Went to the Moon'
Andy Lawes will be taking the meeting and finishing off with our Sky Diary and notices.
August 3rd, 2013 ESAS Star-B-Q on St Mary's Lawns (No Meeting this month)
September 5th, 2013 Paul L Money FRAS, FBIS
An astronomer based in Lincolnshire, England, Paul is well known for his animated talks, he is the reviews editor of the BBC Sky at Night magazine. Paul broadcasts regularly on BBC Radio Lincolnshire and was awarded the 'Eric Zucker' award for 2002/2003 for contributions to Astronomy by the Federation of Astronomical Societies.
October 3rd, 2013 Dr Stewart Clark returns to give us another thrilling installment in his series of talks "The Day without Yesterday".
Stuart Clark is a widely read astronomy journalist whose career is devoted to presenting the complex world of astronomy to the general public. Stuart holds a first class honours degree and a PhD in astrophysics. He is a Fellow of the Royal Astronomical Society, a former Vice Chair of the Association of British Science Writers and is the cosmology consultant for 'New Scientist'. In 2000 'The Independent' placed him alongside Stephen Hawking and the Astronomer Royal, Professor Sir Martin Rees, as one of the 'stars' of British astrophysics teaching.
Saturday 12th 10am - 5:30pm BAA Out of London Back to Basics workshop/talks hosted by ESAS at St Mary's school, Wrestwood Road Bexhill.
---
November 7th, 2013 Greg Smye-Rumsby talk on the subject of Uranus, the seventh planet from the sun. NB: Dr Francisco Diego planned November talk has been postponed.
December 5th, 2013 Professor Robert Iliffe Sir Isaac Newton" ~
Professor Iliffe is Professor of Intellectual History and the History of Science, the University of Sussex